Short Straw, Hawthorn 3122
Trying to catch up with all the hype on the brunch scene since I've been back so I headed over to Short Straw for this week's brunch. Fun, modern and light-filled...this cafe was beautiful and roomy. Did the food meet the stand out decor though?
First up, wow. The atmosphere is absolutely buzzing at Short Straw. Extremely busy with a definite line up if you're heading there during brunch time. Bright indoors with plenty of space...most brunch places pack as many people in as possible like sardines but privacy was definitely a priority here (highly recommend for a girly catch up).
On to the goods though with the Eggs Benny (Poached eggs, crispy potato & braised pork hash, wilted spinach, hollandaise sauce). It looks and feels like your standard eggs benedict but I enjoyed the flavours in this one a bit more than usual. I've become a fan of the eggs benny minus bread so this was right up my alley. Only complaint was that the serving is quite small for the $20 price tag attached to it. Summed up, nothing overly special...great if you're looking for the standard or a hangover meal.
I don't normally consider my drink noteworthy but I have to mention that I paired up my eggs benny with 'organic orange juice'. Literally comes in a small plastic cup and I saw them pour it out of a juice container. Overly sour and borderline not drinkable...do not get it!
Dessert was the main event here though, basically Instagram famous in its own right, Stacks On Waffles (Saffron and caramelised banana waffles, wild strawberry coulis, lemon curd, whipped cream, chocolate macarons). Personally, I really enjoyed this dish. It was not overly sweet as it may look and comes with a soft waffle which isn't for everyone (if you love crispy waffles look away) but I found it complemented the tartness of the lemon curd and strawberry coulis perfectly. Loved the drama that the coulis syringes added to the dish! My main complaint on this dish though were the chia seeds. Entirely unnecessary addition in the whipped cream and only served to make the dish harder to eat (STUCK IN MY TEETH!). I highly value the eating experience over presentation...and this was definitely sacrificed by using the chia seeds.
Service is extremely quick and food was out in a flash though staff are a bit on the stand-offish side...a bit of a contrast to the warmth of the atmosphere. Overall, worth a visit for the Instagram nature of the cafe if you're in the area.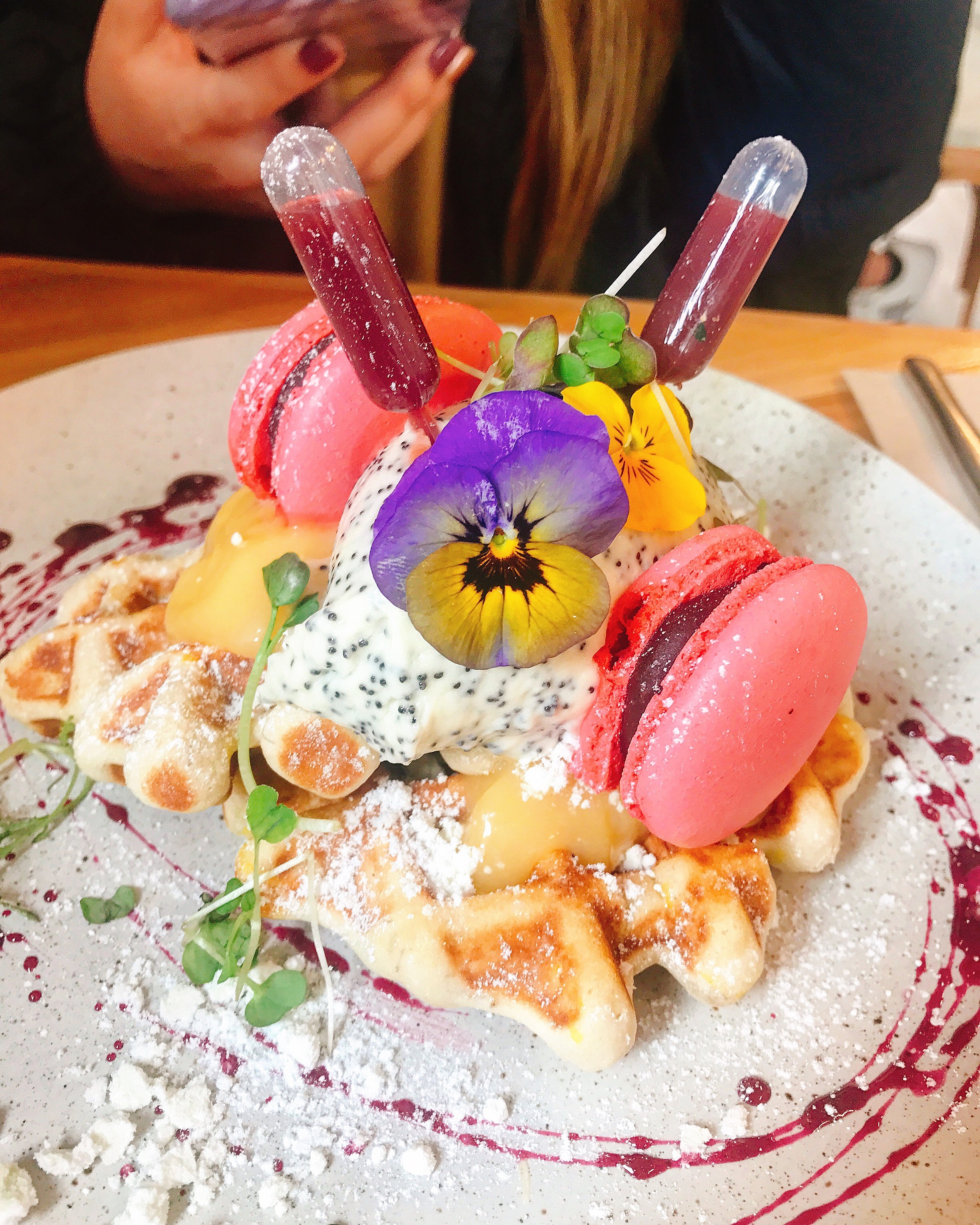 RATINGS
Presentation (5): 4
Taste (5): 3
Service (5): 2
Atmosphere (5): 4
TOTAL: 13/20